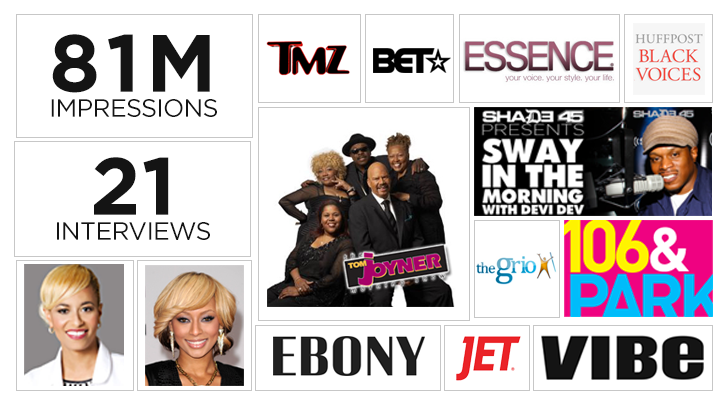 The OraQuick® In-Home HIV Test from OraSure Technologies is the first and only in-home rapid HIV test in the U.S. Launched late in 2012 with a broad national PR campaign, the test received substantial coverage at launch, but then visibility dropped, and six months later OraSure was looking for a new initiative to build back momentum. Zer0 to 5ive recommended that OraSure use National HIV Testing Day (NHTD), an annual day in June focused on HIV testing, as the platform to generate awareness and buzz around the new test. While OraSure regularly supported this day, NHTD 2013 marked a significant milestone in HIV testing – for the first time, an in-home rapid HIV test was available in stores across the nation. For maximum impact the event would focus on one target audience that was among the most at risk for HIV – African American women.
NHTD 2013 comprised a two-day targeted media blitz designed to maximize awareness and buzz around the test and engage consumers in a discussion around HIV testing. The event, supported by a press release, celebrity media tours, original consumer research and aggressive media/social media outreach, was a major success, resulting in significant awareness and sales.
Core to the success of the initiative was a two-day NYC media tour with celebrity spokespeople, Keri Hilson and Dr. Rachael Ross. More than 21 interviews were conducted with many of the top African American media outlets in the country. This was supported by advanced pitching, a press release, a consumer survey and AP photo distribution.
The 2013 National HIV Testing Day event was a huge success, and generated more than 81M impressions through online and print media and social media. Interviews and coverage included: Tom Joyner, 106 & Park, Rickey Smiley, SWAY in the Morning, TMZ, Huffington Post Black Voices, The Grio, BET.com, Essence, XXL Magazine, The Source, Ebony, The Root, JET, VIBE, Hello Beautiful, and amNY. Notably, the week of the event was the largest single week of test sales since launch.