Three Business Features to Utilize for Your Company's Instagram Account
By Sydney Stressman, Strategist
When Instagram first launched in 2010, the social media platform was used by consumers to post personal pictures that had little to no strategy behind them. Now, more than 25 million companies worldwide are using Instagram for business, and more than 200 million users visit at least one business profile every day. As we enter into 2021, Instagram will likely launch newer and better business features, and as brands increasingly utilize these features to highlight their products or services to their followers.
Instagram started introducing its business features more frequently in the past two years. These features range from providing information on your business profile to targeting specific audiences for ad campaigns. For business owners and social media marketers that are looking to add Instagram into their social media strategy, here are three tactics to consider in creating a successful business Instagram account.
Create a Business Profile
When first creating an Instagram account, users will have the option to create a business profile. Having a business profile is important because of the associated features and functionality. On business profiles, the user can identify which category best describes their company and have that title displayed on the profile. This can help new followers understand what the business does at a short glance. Another important feature business profiles have is the ability to view profile analytics in real-time. Users can see how many followers they have gained in the past 30 days, the percentage of follower engagement, and the demographics of their followers. This can help them navigate what works and what doesn't work for their brand on Instagram.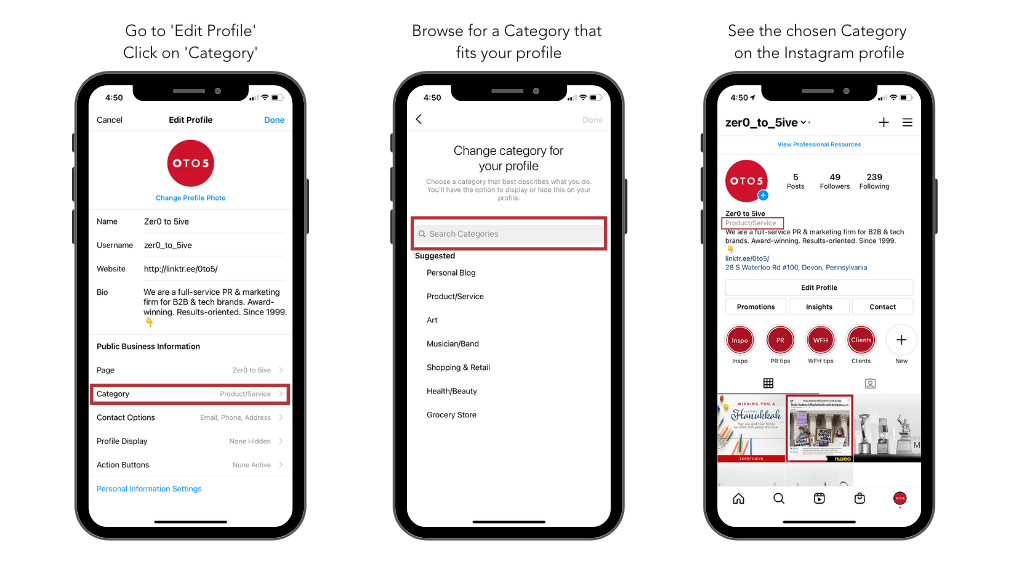 Complete Your Information
Followers want to be able to click on a business's profile and find their contact information within seconds. It is important for businesses to ensure that their information is easy to find. Businesses should include the following in their profile: a phone number, address (if possible), email address, and a website URL. These are the four most basic points of contact for any business and should be showcased on their profile.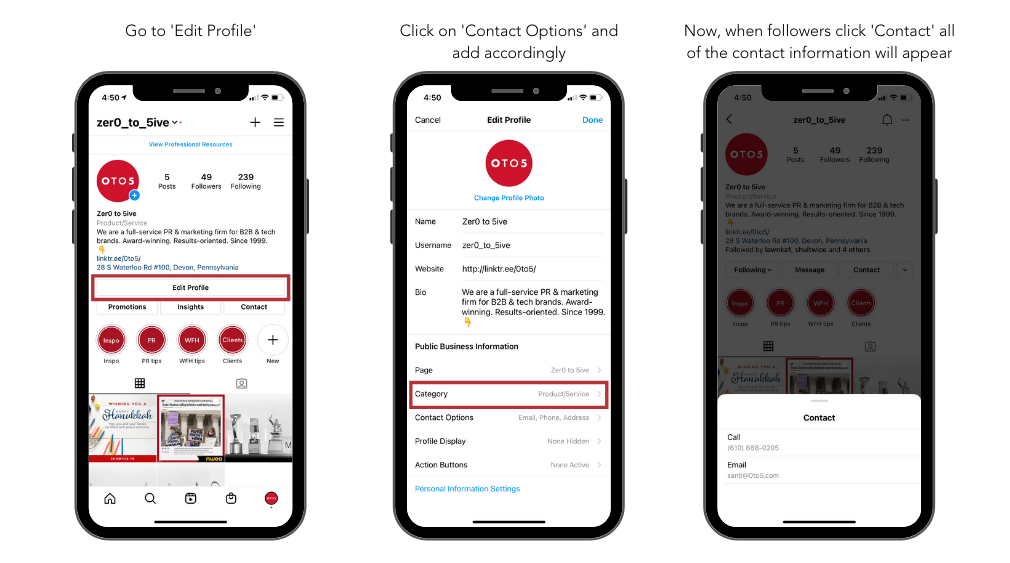 Use Relevant Hashtags  
A simple way to attract the right followers can be by including relevant hashtags in every post. At Zer0 to 5ive, we include hashtags that relate to public relations, marketing, design, and more. Also, creating a branded hashtag for the company, for instance, #Zer0to5ive, can help build a community of followers and make all of the content, including user-generated content, easily available. By searching the company hashtag, users can view posts from the business's Instagram and from customers who are posting about the business. This can give new followers a better understanding of the business and what customers have to say.
Navigating Instagram for business can be confusing at first, but having these basics covered will lead to a more successful page for followers. Be sure to follow Zer0 to 5ive on Instagram to learn more about best practices in social media, public relations, marketing, and design.